Discover Milford's Finest Artisan creations
---
---
At Miss Dallas' Shop, we believe in supporting the talented individuals within our community and showcasing their work to our customers. We are proud to feature a carefully curated selection of unique creations by our favorite local artisans. From intricately designed pottery to hand-created jewelry, each item in our collection is an exclusive masterpiece that has been made with love and attention to detail.
Looking for unique creations that are sure to make a statement? Look no further than our local artisan collection. Stop by today to see what we have in store!
*Actual products may vary in store
---
LOCAL ARTISANS FEATURED AT MISS DALLAS' SHOP
Arlene
Bill
Cathy
Carol
Christine
Delores
Emma
Frank
Holly
Janice
Kathy
Kathy aka. KC
Lore
Marge
Maria
Mary
Marry
Marty
Natalie
Paul
Peggy
Sandi
Shari
Sonny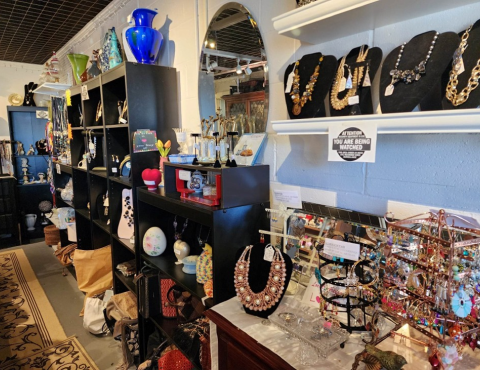 UNEARTH ONE-OF-A-KIND Creations BY TALENTED LOCAL ARTISANS
---
Are you looking to buy a special gift or add a unique touch to your living spaces? Discover a range of local creations at Miss Dallas' Shop. Every item has been carefully chosen for its quality, flair, and originality. Our friendly team is always ready to help you navigate our collections to find the perfect piece for your home and garden. Transform your decor dreams into reality today by visiting our store or reaching out to us at Miss Dallas' Shop.
---
DISCOVER OUR OTHER COLLECTIONS

Explore our vintage finds collection today and discover the charm of the past.
---

Whether you're looking to spruce up your indoor space, enhance your outdoor living area, or cultivate the perfect garden oasis, we're your one-stop-shop for all things garden and home décor.
---
---
Our photos represent a selection of our offerings — please note that actual products may vary in store.
---