Vintage Finds in Milford, CT
---
Discover Unique Treasures from the Past
---
Unearth the charm and nostalgia of bygone days with our carefully curated selection of unique and timeless vintage finds. From vintage decor to eye catching jewelry pieces, each item in our Milford, CT, shop has been handpicked for its quality, authenticity, and character; you won't find anything like it elsewhere. Whether you're looking for a statement piece to add to your collection or simply seeking inspiration, Miss Dallas' Shop is where you'll find it.
Are you searching for one-of-a-kind vintage pieces that will bring character to your living space? Come explore our vintage finds collection and select the perfect piece for your home or garden. Swing by today to browse our selection!
*Actual products may vary in store
---
ITEMS YOU WILL FIND IN OUR VINTAGE COLLECTION
Anchor Hocking
Art glass
Art Nouveau
Avon©
Belleek©
Blendo©
Bohemian glass
Bottles
Brooches
Carnival glass
China: every day & formal
Coach©
Collectibles
Crackle glass
Crystal
Culver©
Decanters
Depression glass
Dooney & Bourke©
Earrings: clips & pierced
Fenton©
Fostoria©
Glassware
Handbags (gently used)
Hobnail
Hummels©
Jewelry
Lenox©
Libbey©
Limoges France©
Lladro©
MCM Glass©
Michael Kors©
Mid-Century Modern
Milk glass
Monet©
Murano©
Paperweights
Perfume bottles
Pressed glass bowls, vases, platters, dishes, etc.
Pyrex©
Silver plated, silver, brass, & copper
Staffordshire©
Swarovski©
Teacups
Teapots & coffee cups
Tiffin©
Trifari©
Vases
Venetian Glass
Waterford©
Wedgwood©
& so much more!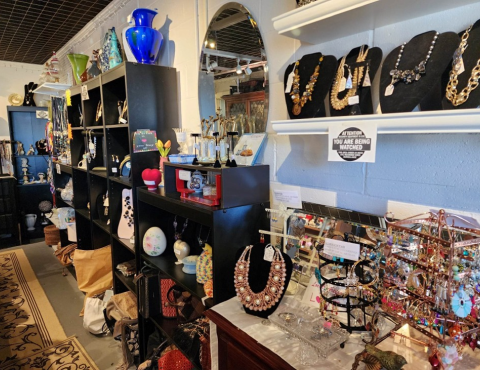 STEP INTO THE WORLD OF VINTAGE: A TREASURE AWAITS YOU AT OUR SHOP
---
Browse our unique selection of vintage finds at Miss Dallas' Shop. With each item personally curated by our team to ensure quality and originality, you're sure to find the perfect piece for any space. Whether you're searching for a thoughtful gift or an addition to your own collection, our friendly staff is here to assist you. Transform your surroundings and bring nostalgic flair with expertly selected, one-of-a-kind finds from Miss Dallas' Shop.
---
DISCOVER OUR OTHER COLLECTIONS

We take pride in supporting local artisans and showcasing their unique creations in our store.
---

Whether you're looking to spruce up your indoor space, enhance your outdoor living area, or cultivate the perfect garden oasis, we're your one-stop-shop for all things garden and home décor.
---
---
Our photos represent a selection of our offerings — please note that actual products may vary in store.
---